This year we received a record number of submissions - 40 in all, including one joint submission; so we heard from 41 LEAs. This is attributable to a substantial increase in the number of entries from English LEAs and represents hard evidence that the Music Standards Fund is having a wholly positive effect on levels of provision. Indeed it is many years since we saw so many vital, upbeat submissions.
There is one particular feature that we are very pleased to identify and applaud. We ourselves, in the past, have praised many innovative projects; the difference now is that so many such projects are being incorporated into longer-lasting curriculum support.
We were pleased to see so much evidence of music services broadening out into an ever-increasing percentage of the school population and ensuring that the full range of young people's musical interests are supported and developed.
As always, we pay tribute to the heads of music services, advisers, classroom teachers, instrumental teachers, pupils, students and parents; heads and governors who in their various ways can and do make a difference; and composers and professional musicians too, who, increasingly, inspire and enthuse young people in and out of school.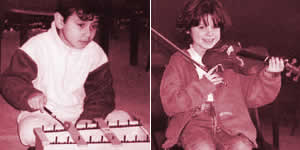 The warm thanks of the National Music Council go to all the Authorities mentioned in this report. And the Council's congratulations go to all the Diploma winners and especially to the Major Trophy winners, Brighton and Hove.

[ Download the whole report in Acrobat PDF format for easy printing ]

[ Photographs by courtesy of Brighton and Hove Music Service ]