Diploma of Special Merit
Devon's commitment to jazz education is undiminished . Members of DYJO 1 continue to progress to UK music conservatoires. The promised return to the Montreux International Jazz Festival by DYJO 1 was fulfilled with three performances.
The two elite Jazz Ambassador groups (drawn from DYJO 1) continued with their outreach programmes. The value of their work is being demonstrated in North Devon schools where a new junior DYJO is being developed. The Jazz Ambassadors are also being used to increase players' skill levels in soloing and the development of compositional ideas. We note with interest plans to develop original teaching materials to enrich existing stocks and to target them at primary school-age pupils.
DYJOs 1 and 2 continue to perform in school Local Learning Communities as a standard part of their annual programme. Thus cascading of skills is enabled as well as the inspirational fillip which only live music can provide. It is worth noting that the two DYJOs meet monthly from September to March, enjoy a residential course and undertake at least six gigs per season. Their programme includes public performances throughout the county. Of the two, the DYJO 1 repertoire is the more advanced and aims to show how integral improvisation is to the idiom by encouraging musical empathy, support and interaction. DYJO 2 concentrates on the basic big band ensemble practice and styles and on essential improvisation. Progression in both groups is monitored and evaluated and peer review is encouraged among section leaders.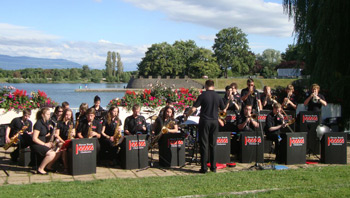 The Jazz Explosion programme, which started as a project and first attracted our attention in 2009 is now well established. This year, workshops continued to be provided for Key Stage 2 pupils, and, as has become the norm, customised teaching materials and lesson plans were published on the website in advance.
Conclusion
We pay tribute to all the above-mentioned authorities for their commitment to music education and jazz in particular. We are pleased to award Diplomas to East Renfrewshire, One Education Music (Manchester), Oxfordshire, SoundStorm (Bournemouth & Poole), Southampton; and a Diploma of Special Merit to Devon together with a special trophy donated by Yamaha Music Europe - UK, in recognition of the fact that Devon have now won six Diplomas on the trot, four of them "of Special Merit"!