Diploma of Special Merit
By Devon's own standards this was a quiet year with the emphasis on laying the foundations for further development. Yet the two Devon Youth Jazz Orchestras (DYJOs 1 & 2) continue to honour their article of faith, which is to achieve an effective balance between gigging and providing a substantial jazz education programme. To that end, on top of ten public gigs throughout the year, the two orchestras performed in School Local Learning Communities as a standard part of their season's programme. That involved cascading of skills, inspiring pupils and students and causing those schools with jazz ensembles to raise their game. Such has been the success of the Jazz Ambassadors Programme, that the Ambassadors have been invited to deliver workshops for adults at one of the Devon Community Colleges.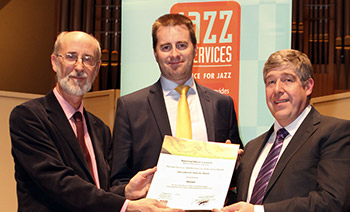 There is one innovation to report: this takes the form of members of both DYJOs being encouraged and given opportunity to develop leadership roles within the band by means of member-directed rehearsal sessions. DYJO members also participated in the NYJC summer school, performed public gigs throughout Devon and enjoyed what has become their normal October residential course.
The Hub rightly draws attention to the merits of having the County Youth Jazz Orchestras tutored by musicians who all play in the local music community and are thus able to provide further playing opportunities to the more gifted musicians.
Conclusion
We pay tribute to those Hubs and Music Services which have demonstrated their commitment to music education and to jazz education in particular and believe that 'honourable mentions' are due to Bournemouth & Poole (SoundStorm), Glasgow, Sheffield and Southend-on-Sea.
And we are pleased to award Diplomas to East Renfrewshire, Manchester (One Education Music), Oxfordshire, Southampton; and a Diploma of Special Merit to Devon.
It will not have escaped notice that Devon have now received several consecutive Diplomas of Special Merit. We have therefore agreed with the Devon Hub that next year they will take a break from the Will Michael Awards and, with our blessing, offer their services as a mentor to one or more other Hubs in England which are keen to develop and improve their jazz education provision. We can think of no better model than that built by Devon!