Over 9 per cent of the school population in Cornwall received instrumental tuition from the Music Service. In the period July 99 to April 03 there was a 57 per cent increase in the hours delivered to schools. Perhaps the most impressive tribute to the Music Service was its involvement, following a very good OfSTED inspection, in the delivery of in-service training to six other LEA music services.
We applaud the steps taken to uphold and develop traditional Cornish music involving the County Youth Orchestra and choirs. But perhaps the most remarkable aspect of this work was the action of the main Cornish Brewery, which as well as sponsoring various projects, distributed song sheets to over 150 pubs across the County; and Music Service staff taught the songs to pubgoers!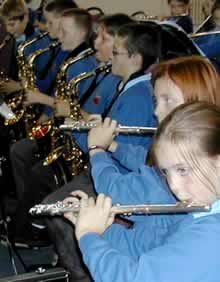 To similar ends, the Music Service worked with independent brass bands within the County. This presented playing opportunities for young people and, by virtue of the free loan of instruments and free provision of one term's brass lessons for primary pupils in eleven schools, another important Cornish tradition was nourished. The Singing Challenge Programme led to a fruitful collaboration between Truro Cathedral Choir and primary schools. As a result, twelve schools established school choirs which, in turn, has enhanced recruitment to the County Junior Choir. And the Cathedral was made available for weekly rehearsals.
Curriculum support to schools was provided by four primary project co-ordinators and advanced skills teachers. The main thrust took the form of cross-phase transition projects within which secondary schools and their feeder primaries worked together on curriculum material that has been subsequently taken on and developed by the secondary school. That initiative involved over 25 per cent of the schools. All the INSET programmes had curriculum development as their core.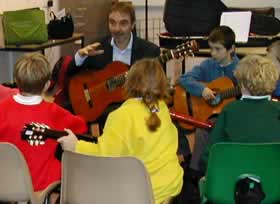 The Music Service provided the line managers and generally facilitated and oversaw the Youth Music Action Zone for the County. Out of this were forged invaluable links with dance and music organisations and the LEA's Youth Service. Music Service musicians and a youth worker were involved in the delivery of 1,558 sessions that made contact with over 18,000 young people. It seems that the main lesson learnt was that making music is not just about individual success but team work! Effective contact was made with the Schubert Ensemble of London, the St Martin in the Fields Chamber Orchestra, the Birmingham Royal Ballet and the Education Animateur of the Bournemouth Orchestra; and all five of the County's adult orchestras and ensembles are affiliated to and indeed dependant on the Music Service.
And finally there was an exemplary number of opportunities for pupils and students to perform in a variety of ensembles: there has clearly been much musical joy in Cornwall!